SYDELLE NOEL'S GLOW UP
When I walked into photographer's Mike Quain studio, one of the first things I heard was "Where'd you get that onesie?" And a tall, beautiful woman emerged wearing a onesie too. It was in this twinning moment with Sydelle Noel that I knew I had found one of the coolest people on the planet. Sydelle has made her mark in Hollywood as tough girl, Cherry "Junkchain" Bang, on Netflix's Glow. This Floridian's journey to Hollywood occurred by happenstance. She originally had her sights set on the Olympics until a stress fracture altered her course. In 2004, she packed up and headed for California and began acting. Her big break didn't come until 2017 with Glow and Black Panther. I sat down with Sydelle to get the scoop on her glow up.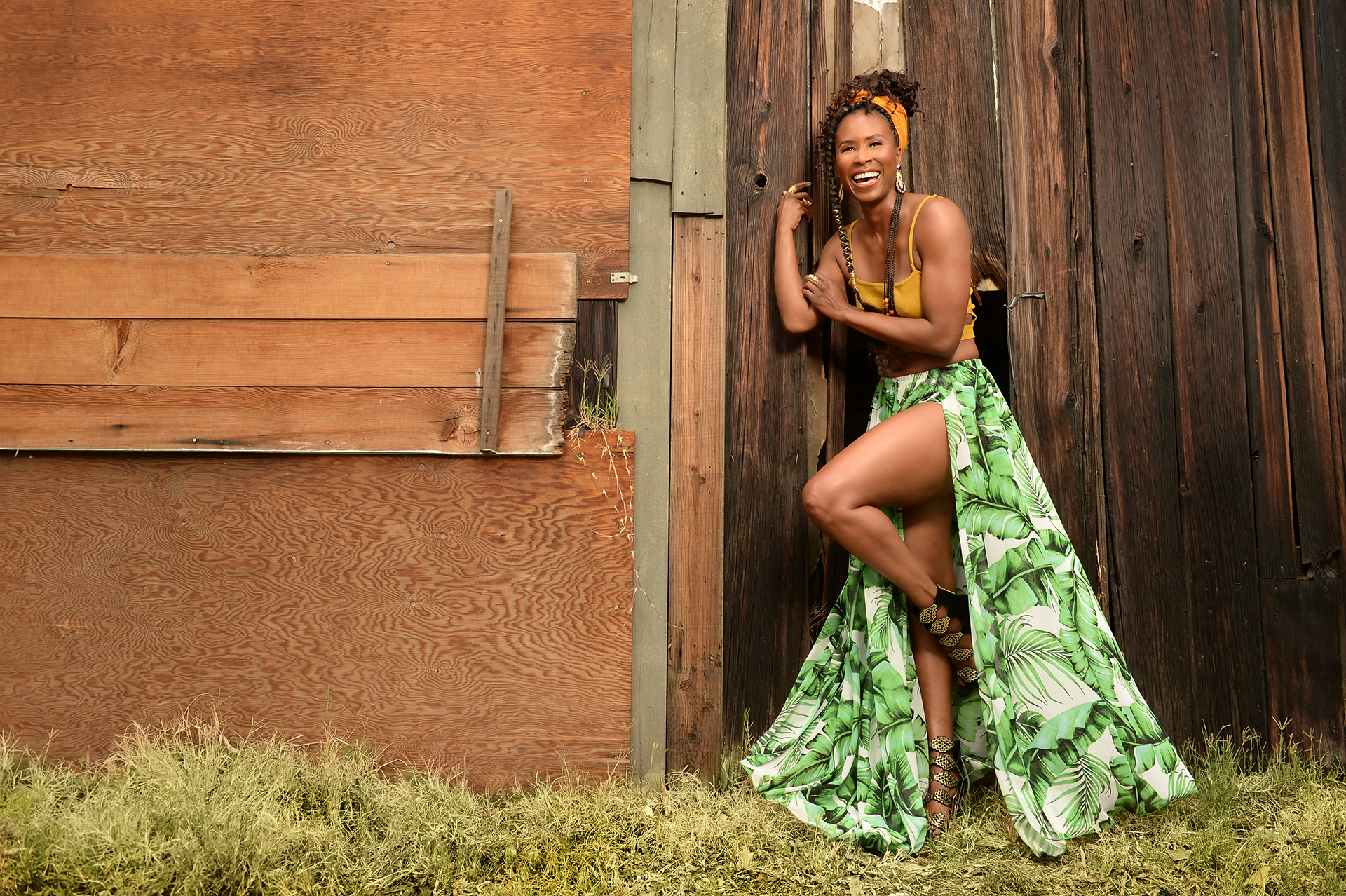 What do you love most about playing Cherry Bang?
I want to say how physical she is because she's physical but she's also a woman, right. Most of the time, you don't see that. You don't see a strong black woman on television that's also in her feelings, that says it how she wants it, how things should be done. And they let her express herself without giving two shits what other people say, which I like. Most of the time, you see either the angry black girl or the crying mother, and this is, not that role! I love the fact that a woman can be "strong" too! I also get to do all my stunts, which is unbelievable. So you can say I am also a wrestler. I appreciate the fact that they let her speak her mind.

However, I know this season, the third season, you'll see a little shakeup. Expect to see the beauty of strong black love! Everyone knows that it is almost impossible to see "strong" black love. How often do we see a black couple with that? You don't see it that often. You have a black man that's supporting his wife and vice versa. They support each other and they love each other, besides "This Is Us". I'm glad that I'm pretty much on a TV series that's written by white folks and they're expressing strong black love. That was the first thing I said to them at that time. "I'm so glad that you have black love on your television show." They expressed that, that's what they wanted and they were like, "You and Keith are the stable relationship on our show.. and that's what we want to show".

How much of Cherry are you?
I want to say like 75%. There are times when I had to bite my tongue, especially in this business. Cherry does not do that, no matter what. But I did most of the things that she does, I literally was like are you guys writing my life right now. Season one was sort of weird; it was like Cherry got her dream, which was to be in a television show which was Chambers and Gold. And, as they were playing that out, that's when I was finding out whether I was going to be in Black Panther or not. It's been my dream to be in a Marvel movie. As this was going on, we were getting scripts maybe two weeks before were about to shoot it.

Every week was something closer to what I was doing with Black Panther. To the point where when we shot episode 10 that I discovered that I got the part with "Chambers and Gold" at the same time that I found out I was in Black Panther's role. It was magical! It was crazy to the point where the girls were celebrating. We took about two minutes. Everybody and I were happy that I got it because they knew the process. I auditioned for Black Panther and GLOW two weeks apart from each other. I didn't get to find out if I would be Black Panther until we were almost through with shooting GLOW. So it was that long of a process, like four months of me finding out whether I was going to be in Black Panther.

Do you see Hollywood changing and starting to embrace these strong black women characters?
I do, and I hope it continues. I mean with Taraji in Proud Mary and Charlize Theron (who produced the Atomic Blonde movie). We're now seeing these active women roles, unlike the pouty crying woman. They're not afraid to have women being outputs out there. I want this to continue because my goal is to be an action hero! Truthfully, you don't really see an African American action hero here out there. I mean you see us maybe in one movie, and then that's it. But say, someone that continues doing action like 'The Rock'. You know The Rock is always doing action. You don't have that for African Americans. Like you have that for Caucasian people, but you don't have an ethnic person that is pretty much known for action. I mean an ethnic female that's known for action. You don't have that! And I hope that would be me one day. So I hope this industry continues to grow on that top Alpha woman roles and not stay away from it because that's what I want to do.

You can recreate a movie inserting yourself as the lead, what movie would it be? I know you mentioned 'The Rock' so would you do one of the Rock's movies..?
Recreate it? Wow! I will do everything The Rock has done! Everything! Yeah! Indeed, most of the roles I want to do are what I see men doing. I crave for the parts men take in action movies. I hardly see women doing the characters that I want to do. I don't see women leading a film and for instance, leading in an army movie. I don't think I've ever seen that. You see men mostly in films like "Fast and furious," Hobbs and Shaw" etc. In "Hobbs and Shaw," Idris should have been a woman. I love Idris but that could be me or maybe he has a woman as a sidekick, or something. I think they do have a woman in the movie, but I think she just acted as a shop keeper or something. But again, you don't see women in these roles. We don't have alpha black women out there shooting these type of roles. We don't. So you don't see it. I only see those roles going to Caucasian folks not us.

Do you ever think that one day you're going to produce and direct your film?
Oh, I am. I'm in the process of writing, Yeah. I have a few things that I have that are in the works.
So you're going to change the culture of having only the men doing the strong stuff? Yeah, definitely. I will be happy to do that! So it will be me.

So how did you manage to get out of the box to create your lane(to go from not doing those sappy mommy characters)? How did you get to know who you are?
I will tell you that I am different from everybody else. In this business, you can get pigeonholed if you are not sensitive enough to know what you want and stand for it. You book one role, even though you're not that type, and that's not the direction you want to go, people see you like that now. So that's the role you tend to go for afterward. I literally wouldn't go out for it. Initially, I was struggling with my choice of roles. I was a uber driver, babysitter, or hostess. At a point, I had to be selective in deciding my roles, despite that fact that I needed the money. I would tell my representation that these are the types of roles that I want to go out for. I carved out the direction I wanted to follow. If they weren't ok with that, then I knew they weren't the right representation for me. I had to reject some movie roles, and television shows that I did not want to be in. I only went for what I truly wanted, even if it would limit my auditions but I just knew that I did not want to go in that direction. So literally, once I got my representation and the one that was like "Ok, yes, I see your goals and this is what you want." It was great.

Maybe I could have made it many years ago, but I might be doing something I don't want to do. And I knew it within myself that I wouldn't want that at all. I wouldn't be happy. So, I just waited. I waited for those type of roles I wanted. I said "no" to auditions that I knew that my friends wanted. And they were like, 'what are you doing'? And I'm just like, yeah, 'this is great, but what happens when I booked this role'?

"Most of the time, you see either the angry black girl or the crying mother, and this is, not that role! I love the fact that a woman can be "strong" too!"
I am sure that's a tough thing to do. What do you think? Yeah, sure. That's a tough thing to do. It's so tough to do. And that's why, I mean, it's not for everybody to do. I tell my friends, that's what I did. And some of them choose to do that. Some of them don't. And you know, I have friends that are stuck right now because they did the other route where I'm just going out on everything. And this is what I know now- they're pigeonholed, and they're stuck in this category that they're trying to get out of. It is not easy for them to get out from there. It's a serious matter, and you have to be a strong person to say 'no.' Most of the time, even reps would say, 'that's 50% of your auditions'.' What do you mean?' And I'm like, 'I'm sorry, but that's not what I want to do.'

And I heard that you found your representation through the women at GLOW? Or through another movie that you are doing?
No. Literally, I got let go from my management. And, the next day I got offered an independent film. She gave them my information directly because, of course, I wasn't with her. The casting directors on that were Monica Kelly and Jennifer Treadwell. They cast me in this film and then at the wrap party they were like, 'who's your representation'? And I was like, 'currently, nobody, as you can see.' And they said, 'okay, so send us a list of theatrical and managers that you would want to be with. Don't be like C.A.A, be realistic, and send us like five and five. And I did. Some of the people that were on my list were on their list. So, they just set me up with meetings, and I had like maybe seven sessions in a week. And from there, I found my representation. They were great people. They knew the direction I wanted to go, and they were okay with it. And within maybe five months of being with them, I got GLOW. It was so funny because I've always wanted to work with Jenji. Oh, the first show I think I binge-watched was a 'House of Cards and Orange is New Black,' and I saw faces of some dope black people on this show. Dope black people! I said to myself, 'I would love to work with this woman on the next television show I got.

Who else would you love to work with?
As an actor, Idris Elba, The Rock, Brian Tyree, LaKeith Stanfield. I love LaKeith! LaKeith is amazing. When I met him, he's such a cool guy. I like him and his wife, Xosha. When I met them, they're just so cool. But there are so many people that I idolize. Viola Davis. I think if I ever work with her, I'd probably just cry every day. I got my dream to work with Angela Bassett. That was my dream. I remember walking up to her the day I wrapped after Black Panther and just literally telling her how much she meant to me. And we talked. I mean, we've always talked about how my scenes have been. She raised me. She's just an amazing down -to- earth woman. Like, you know, to meet someone that you look up to and find out that ass tear you into pieces. It was just cool to identify with such a person. So I was telling her 'thank you, thank you! I think I was crying when I talked to her. The top women that I want to work with are Angela Bassett, Viola Davis, and Meryl Streep. I only hope I could be a little bit of them.

Are you still training as an actor?
Yes and no. When I say training, I'm not in class anymore, but I still do my training. There are some things I do, which I feel every actor should do, no matter what you do, every day, you should either be reading a script, reciting an audition, rehearsing, reading a book or writing (which is very helpful in this industry). The people who are working all the time, are actively working. So while you're waiting, sitting at home doing nothing, they are getting better and better while you're just watching TV at home. But if you're working on your craft too, you're working just like them. So by the time you get this job, you're not saying something like, 'oh my God, I'm like scrambling, how do I make this character work?' You've already put in the work because you've been doing it every day. Just like they'd been working every day. So no matter what, I carve out time to do something each day. I try to read a book or write, do something within this business to develop myself so that I'm ready so I don't have to get ready.
For young actors who are going to read this article and they probably want to know what did, can you let them know? You have to do something every day within your craft! Every day, within an hour, whatever. Just put in the time, every day within your work because the people that are doing what you want to do are doing it every day.

Most of the roles that you're doing are very physical. What's your fitness routine? What are you doing to stay in shape?
Should I say that I do everything? Yeah! Right now, since I'm not currently on set, I am working out two to three times a day. Sometimes maybe even seven times a week when I am not on set. When I'm on set, I don't work out because it's not convenient. In a case where I have a call time at four or five in the morning, I am not likely to wake up at three to get my workout in, and I'm not the type of person to work out afterward. I find myself 'dead' later. Set days are always long days. So, during set times, it's just hard for me to work out. So I try to get in as much at any given opportunity. I lift weights; I swim, I cycle. Right now, I'm doing martial arts classes.

What Martial Arts?
Kung Fu and Taekwondo. And I'm doing a little bit of Jujitsu.
So basically don't mess with you? Don't mess with me!! Yes and I box, and I box! I really box. I do it all. And the reason why I do that is that I like to confuse my muscles. It's because I eat, I'm not one of those people that don't eat. And I'm not saying I bad, I eat healthy but I love sweets. So when I'm in my off time, I'm eating my sweets. So, me working out like this cancels it out. So I'm pretty much staying how I want to be. When I book a job then I know I have to cut most of that stuff out and then I could get back in shape.

So you are not like Beyonce cutting out on sugar?
I was like No, What are you eating Beyonce? (Laughing) No. I will not do that. For the most part, right now I'm a pescatarian. I cut out meat, so I pretty much eat just seafood, vegetables, some carbs here and there, but I'm pretty healthy. But I love my Cinnabuns! Yeah. Like I said, after this, I'm getting my Cinnabun.

What was the craziest thing you've ever had to do to prepare for a role?
Craziest? Physically or just general? Because physically, I think black panther was the craziest and a dream come true role because I've never had a role where I had an audition. So I auditioned for Black Panther. I had the preread then I had to call back. I had I guess they call it a stunt or physical audition which I've never had before. So I went in there with Ryan Coogler, Nate Moore and some of the other producers. I had to learn how to use a bow staff! I've never put a bow staff in my hand before. They taught me a sequence within 30 minutes. And then two hours later, I had to present it in front of them! Afterward, they asked me what else could I do. And I showed them some shadow
boxing with some stuff that I learned on GLOW. They wanted to see how physical I can be. Because, of course being one of the Doras demand that I am more physical. And my role, I was going to be with stunt girls. So they wanted to see if I can handle being with the stunt girls. It was so crazy! I was flown out to Atlanta. I was on a plane on a red eye. I got there at six o'clock in the morning. The next thing I knew was that it was eight o'clock after learning all this stuff. And then I think it was around four that I got back on a plane headed back to Los Angeles. I was only there for a few hours, and that was that. By the time I landed, my, my reps were surprised, and they told me, 'you got it!'. That was the craziest thing I have ever done. For a month, I was hanging out with the stunt people so that I could learn how to use this, bow staff. Now I'm proficient in bow staff! I keep telling people I'm Donatello from Teenage Mutant Ninja Turtles.

So is there anything exciting that you're working on right now that you can discuss? Nope. Nope. Don't wanna jinx it. Yeah. Yeah. There are some exciting things.
You're superstitious? I am. I kinda am because I feel everything that I did mention to people, I didn't get, but the things that I shut up about I was getting. I was like, 'well you don't want me to speak Lord, so I'm going to just keep it to myself.'

And then you mentioned that your mom is from where?
Grenada. So her superstition rubs off on me even though I try not to be that way. It rubs off on me. I have a little bit of that in me. However, there's some stuff, some cool things coming up. I can say that I'm writing right now. My writing partner and we are writing a pilot, which I hope will go. It's something that you haven't seen before! It's called 'Hot Take,' and picture 'Dear White People' meet the 'West Wing' on the set of sports center. I'm, establishing it with a black woman as a lead.

Is it an all-black cast?
No. It's going to be very diverse like Grey's Anatomy diverse, but I want it to center on a black woman. This black woman could be me or not, depending on how things work. You're going to see how women are treated on Sports Centers. Can you remember a sportscaster named Jamele (Hill)?
Photographer:
Mike Quain
Styled By:
Monica Cargile
Hair By:
Jacare Davis
Make Up By:
Veronica De'Andrea
She left ESPN. So, picture her on television, picture how she will be treated in the whole sports world where it's mostly men's world. So, that's what I'm writing about. My reps had their doubts because I told them to read the script that I wrote. And they were like, 'oh no! , another actor writing a script'. When they read it, they said, 'Yes' it's pretty good! It's pretty damn good, but hey, let's try to do this!'. And I was like,' great! Thank you!'. So, hopefully, that'll be in the works pretty soon. Congratulations! Now, I will be switching gears a little bit. I know at some point in your life, you had Olympic goals, and of course, that did not pan out because you had a stress fracture. If you could go back and do it again, would you choose the Olympics or would you choose this path that you have now?. Oh no, why would you do this to me!! I think I would choose the Olympics because, after the Olympics, I still can stay on this path. It's an honor to be in the Olympics. Who can say I went to the Olympics? I've known an Olympian. I won a gold, silver, bronze, but no matter what you were there. I have been running since I was five years old. At that time, I didn't know if I had aspirations. My dad introduced me to track and field, and it just went from there. I was the number one hurdler in Broward county growing up. When I got to high school, news reporters would come to my class trying to interfere. It was crazy! So I was being interviewed back then. They asked me questions like; "what college are you going to go to?" I think I would choose the Olympics, because who knows what happens after that? I feel like a lot of athletes turn into actors right off the bat. So it might've been an easier path for me. I think I would try to still get my gold medal in either the long jump or hurdles. Well, that's all my questions. Thank you so much for doing this interview.